| | |
| --- | --- |
|   | |
|  Journal Summary | Published in 2015, Integritas: Jurnal Antikorupsi is a journal that disseminates the results of research or conceptual studies about corruption and subjects related to corruption. Integritas: Jurnal Antikorupsi published two numbers in a year, intended for experts, academics, researchers, practitioners, state administrators, anti-corruption activists, and the community in general.  |
| Tools | |
---
| | |
| --- | --- |
| | This journal has been ACCREDITED by National Journal Accreditation (ARJUNA), Managed by the Ministry of Research, Technology, and Higher Education, Republic Indonesia with Second Grade (Peringkat 2, Sinta 2) since the year 2018 to 2023 according to decree No. 200/M/KPT/2020. |
Integritas: Jurnal Antikorupsi discuss the phenomenon of corruption and anti-corruption with the scope of specific research/study topics, including the following:
Handling corruption cases, Money Laundering, gratification, corporate criminal, asset recovery, and examination of judicial decisions.
Corruption in the executive, legislative and judiciary, both at central and regional levels
Corruption in the natural resources, infrastructure, food, health, education, and other public services sectors
Issues of transparency and public participation
Eradication of corruption based on religion, culture and local wisdom
Corruption reporting in mass media and social media
Anti-corruption education and campaigns
The organization, performance, and work of the KPK.
Comparison of handling corruption between institutions and between countries.
The impact of corruption, ranging from economic, social, political, bureaucratic-governance, legal, psychological, cultural, and other aspects.
The use of technology in combating corruption
Historical aspects and the development of corruption and anti-corruption movements
Vol. 6 No. 2 (2020): INTEGRITAS: Jurnal Antikorupsi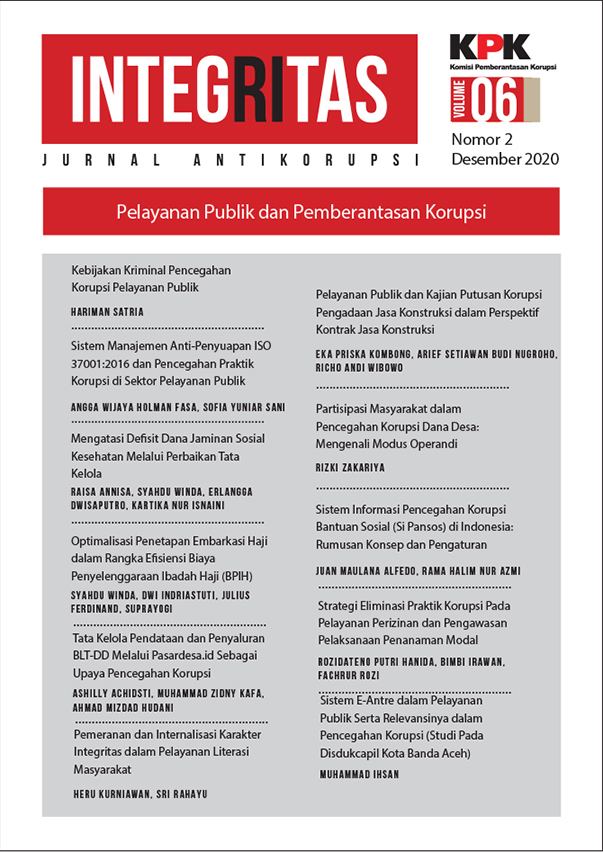 Published since 2015, Integritas: Jurnal Antikorupsi is a journal that disseminates the results of research or conceptual studies about corruption and subjects related to corruption. Integritas: Jurnal Antikorupsi published two numbers in a year, intended for experts, academics, researchers, practitioners, state administrators, anti-corruption activists, and the community in general. 
Published: 2020-12-14
View All Issues